Free Piano Sheets of Tom and Jerry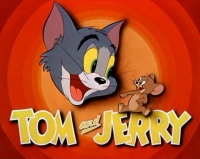 Tom and Jerry is a successful and long-running series of theatrical short subjects created by William Hanna and Joseph Barbera for Metro-Goldwyn-Mayer that centered on a never-ending rivalry between a housecat (Tom) and a brown mouse (Jerry) whose chases and battles often involved comic violence. Hanna and Barbera ultimately wrote and directed one hundred and fourteen Tom and Jerry cartoons at the MGM cartoon studio in Hollywood, California between 1940 and 1957, when the animation unit was closed down. The original series is notable for having won the Academy Awards for Best Short Subject (Cartoons) seven times, tying it with Walt Disney's Silly Symphonies as the most-awarded theatrical animated series.

Beginning in 1960, in addition to the originals MGM had new shorts produced by Rembrandt Films, led by Gene Deitch in Eastern Europe. Production of Tom and Jerry shorts returned to Hollywood under Chuck Jones' Sib-Tower 12 Productions in 1963; this series lasted until 1967, making it a total of 161 shorts. The cat and mouse stars later resurfaced in television cartoons produced by Hanna-Barbera and Filmation Studios during the 1970s, 1980s, and 1990s, and a feature film, Tom and Jerry: The Movie, in 1993. Today, Warner Bros. (via its Turner Entertainment division) owns the rights to Tom and Jerry, and produces the series Tom and Jerry Tales for The CW's Saturday morning "Kids WB" lineup, as well as the 2005 Tom and Jerry short, The KarateGuard and a string of Tom and Jerry direct-to-video films.
Share this with your friends
There are no sheets found..


The free piano sheet music is provided for personal enjoyment only, not for resale purposes. If you are one of the artists and not happy with your work being posted here please contact us so we can remove it.

Latest Sheets
Here are the latest free piano sheets..
Mailing List
Subscribe to mailing list and get notified of updates.



Latest Sheets Feed


Popular Sheets Feed


Follow us on Facebook