Free Piano Sheets of James Horner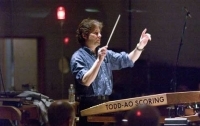 James Roy Horner (born August 14, 1953) is an award winning American composer, orchestrator and conductor of orchestral and film music. He is noted for the integration of choral and electronic elements in many of his film scores, and for frequent use of Celtic musical elements.

In a career that spans over three decades, Horner has composed several of Hollywood's most famous film scores. He is probably best known for his critically acclaimed works on the 1997 film Titanic, which remains today the best selling film soundtrack of all time. Other popular works include Braveheart, Apollo 13, The Mask of Zorro, and The Legend of Zorro.

Horner is a two time Academy Award winner, and has received a total of 11 nominations. He has won numerous other awards, including the Golden Globe Award and the Grammy Award.

Share this with your friends
There are no sheets found..


The free piano sheet music is provided for personal enjoyment only, not for resale purposes. If you are one of the artists and not happy with your work being posted here please contact us so we can remove it.

Latest Sheets
Here are the latest free piano sheets..
Mailing List
Subscribe to mailing list and get notified of updates.



Latest Sheets Feed


Popular Sheets Feed


Follow us on Facebook