Free Piano Sheets of The 25th Annual Putnam County Spelling Bee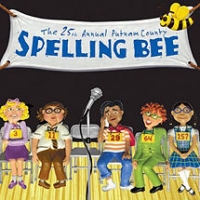 The 25th Annual Putnam County Spelling Bee is a one act musical comedy with music and lyrics by William Finn and a book by Rachel Sheinkin. The show centers around a fictional spelling bee set in a geographically ambiguous Putnam Valley Middle School in Putnam County, NY. Six quirky adolescents compete in the Bee, run by three equally-quirky grown-ups. The spellers learn that winning isn't everything.

The 2005 Broadway production, directed by James Lapine, has earned good reviews and box-office success and was nominated for six Tony Awards, winning two, including Best Book. The show has spawned various other productions in the U.S., a national tour with performances two in Canada and Australian productions.

An unusual aspect of the show is that three or four real audience members are invited on stage to compete in the spelling bee alongside the six young characters. During the 2005 Tony Awards, former Presidential candidate Al Sharpton competed. Another amusing aspect of the show is that the official pronouncer provides ridiculous usage examples when asked to use words in a sentence. For instance, for the word "palaestra," he says, "Euripides said, 'What happens at the palaestra stays at the palaestra.'" At some shows, adult-only audiences (over age 16) are invited for "Parent-Teacher Conferences," also known as "adult night at the Bee." These performances are peppered with sexual references and profanity inspired by R-rated ad-libs made during rehearsals.

Spelling Bee, together with The Drowsy Chaperone, Xanadu, and others, is part of a Broadway trend to present musicals uninterrupted by an intermission, with a relatively small cast and short running time of less than two hours.
Share this with your friends
Piano Music Sheets of Artist
Total 1 result(s), listing between 0 - 1.


The free piano sheet music is provided for personal enjoyment only, not for resale purposes. If you are one of the artists and not happy with your work being posted here please contact us so we can remove it.

Latest Sheets
Here are the latest free piano sheets..
Mailing List
Subscribe to mailing list and get notified of updates.



Latest Sheets Feed


Popular Sheets Feed


Follow us on Facebook