Free Piano Sheets of Khachaturian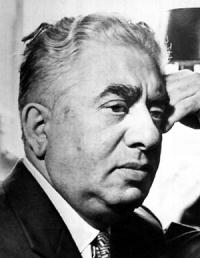 Aram Khachaturian (June 6, 1903–May 1, 1978) was a Soviet-Armenian composer whose works were often influenced by Armenian folk music.

Khachaturian's works include concertos for violin (also transcribed for flute), cello, and piano (the latter originally including an early part for the flexatone), concerto-rhapsodies for the same instruments, three symphonies—the third containing parts for fifteen additional trumpets and organ, and the ballets Spartak (AKA Spartacus) and Gayane (the adagio was used in Stanley Kubrick's film 2001: A Space Odyssey). The latter ballet features in its final act what is probably his most famous movement, the "Sabre Dance." He also wrote some piano music such as the song "Two Ladies Gossiping," a quick and lively song.

He also composed some film music and incidental music for plays such as the 1941 production of Mikhail Lermontov's Masquerade. The cinematic quality of his music for Spartacus was clearly seen when it was used as the theme for a popular BBC drama series, The Onedin Line, during the 1970s. Since then, it has become one of the most popular of all classical pieces for UK audiences. Joel Coen's The Hudsucker Proxy also prominently featured music from Spartacus and Gayane (Sabre Dance included) mixed with the original compositions by Carter Burwell. He was also the composer for the state anthem of the Armenian SSR, whose tune is one of the five current choices to become the next state anthem of Armenia. The climax of Spartacus' second movement was also used in Ice Age: The Meltdown.

Share this with your friends
Piano Music Sheets of Artist
Total 1 result(s), listing between 0 - 1.


The free piano sheet music is provided for personal enjoyment only, not for resale purposes. If you are one of the artists and not happy with your work being posted here please contact us so we can remove it.

Latest Sheets
Here are the latest free piano sheets..
Mailing List
Subscribe to mailing list and get notified of updates.



Latest Sheets Feed


Popular Sheets Feed


Follow us on Facebook