Free Piano Sheets of David Archuleta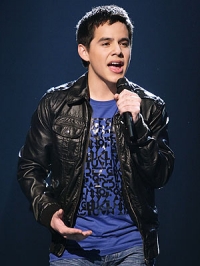 David James Archuleta (born December 28, 1990) is an American singer. In May 2008, he became the runner-up on the seventh season of American Idol receiving 44 percent of over 97 million votes. Archuleta's first single "Crush" was released in August 2008; his self-titled debut album was released in November 2008.

Archuleta's mother is from Honduras, and much of the music he listened to as a child was Latin-influenced including watching his mom sing at events with her sisters. She also "was big on dancing" according to Archuleta, and would "make" him dance to traditional music with his older sister. He also listened to jazz music, he said, from his father's collection as well as gospel, pop, rock and "soulful music." In a later interview, he revealed that his father was a jazz musician. Archuleta also said he enjoys Broadway musicals.

On his American Idol "Fast Facts" page, Archuleta cited his musical influences as Natalie Cole, Stevie Wonder, Kirk Franklin and Bryan Adams. When he listed his top pop music artists, he cited Natasha Bedingfield, Natalie Cole, Celine Dion, Mariah Carey, Michael Jackson, Stevie Wonder, Bryan Adams, Kirk Franklin, and Robbie Williams. Like Elliott Yamin and another singer he admires, John Mayer, Archuleta tries to infuse his pop selections with a soulful vibe. In a Seventeen interview he cites Sara Bareilles as a clever singer-songwriter he looks up to.
Share this with your friends
Piano Music Sheets of Artist
Total 1 result(s), listing between 0 - 1.


The free piano sheet music is provided for personal enjoyment only, not for resale purposes. If you are one of the artists and not happy with your work being posted here please contact us so we can remove it.

Latest Sheets
Here are the latest free piano sheets..
Mailing List
Subscribe to mailing list and get notified of updates.



Latest Sheets Feed


Popular Sheets Feed


Follow us on Facebook