Free Piano Sheets of t.A.T.u.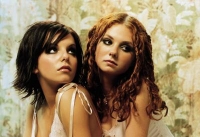 "t.A.T.u." (Russian: Тату́ pronounced ( listen)) was a Russian music duo Elena Katina and Yulia Volkova. Formed in 1999, as Neposedi by Ivan Shapovalov, the group signed a deal with independent label Neoformat, then Universal Music Russia, and finally to Interscope Records in 2001.
t.A.T.u. gained mainstream recognition when they released their first single "All The Things She Said", which topped the charts worldwide including their native Russia (with the Russian version "Ya Soshla S Uma"), United Kingdom, Australia, New Zealand, Italy, Switzerland and other European countries. The groups english-language album 200 km/h in the Wrong Lane is currently the groups best selling album to date. However, the group received conflict worldwide with the music video, showing the girls kissing each other in school uniforms behind a fence. t.A.T.u. became the first group ever to get the IFPI Europe platinum award for the same album in two different languages.

The group represented Russia in the Eurovision Song Contest in Riga, Latvia, with the song "Ne Ver', Ne Boysia", where they placed third. In mid 2005, the group released the single "All About Us", which was another successful hit worldwide. Then in October 2005, the group released their second english album "Dangerous and Moving", then releasing their second russian-language album "Lyudi Invalidy". Then in 2006, the group released their first and only official compilation "The Best of t.A.T.u.", and announced they had left their record label Universal Music. The group then released their third Russian album "Vesyoyle Ulybki" in 2008, and the english counter part "Waste Management" in December 2009 worldwide digitally.

On March 2011, it was announced officially on their website that t.A.T.u. had split up, as both Yulia and Lena are currently pursueing solo careers. Throughout their career, the group have sold almost 10 million copies world, making t.A.T.u. the best selling Russian group of all time in Russian music history. and now known by her english pronunciation "Julia Volkova".
Share this with your friends
Piano Music Sheets of Artist
Total 1 result(s), listing between 0 - 1.


The free piano sheet music is provided for personal enjoyment only, not for resale purposes. If you are one of the artists and not happy with your work being posted here please contact us so we can remove it.

Latest Sheets
Here are the latest free piano sheets..
Mailing List
Subscribe to mailing list and get notified of updates.



Latest Sheets Feed


Popular Sheets Feed


Follow us on Facebook