Free Piano Sheets of Deep Blue Something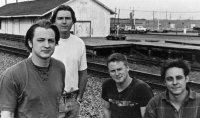 Deep Blue Something is an American rock band best known for its hit single "Breakfast at Tiffany's." The group was founded in 1993 in Denton, Texas by students Todd and Toby Pipes, Clay Bergus and John Kirtland. Bergus left the band before Tiffany's became a hit and was replaced by guitarist Kirk Tatom, but eventually returned to that role. Originally, the group called themselves Leper Messiah, but decided to change the name after seeing this name attracted mostly heavy metal fans, due to the Metallica song of the same name.

The band's first record, 11th Song, is from 1993. In 1994 (and again, on another label in 1995) the band released their second album, Home. The accompanying single "Breakfast at Tiffany's," reached the top five in the United States and number one in the United Kingdom. The lyrics of the song were inspired by Audrey Hepburn's performance in Roman Holiday, but the author, Todd David Pipes, thought that one of Hepburn's other films would make a better song title.

Outside the United States, Byzantium was released in 1998. In its home country, the band took much time off between Home and their 2001 album Deep Blue Something, in order to fight US centered copyright issues related to their initial album, 11th Song, which they believed to be of lower quality than their name deserved. The 7-year hiatus between albums is believed to be partially responsible for their failure to succeed in the US with their self-titled release. "Deep Blue Something" was released on Aezra Records, a small independent label, and the album produced four singles, She Is, Hell in Itself, Military Man, and Parkbench.

Recently Deep Blue Something has been reactivated, and the band did a short tour in the winter 2007. The band is also planning on releasing new music through iTunes.

Share this with your friends
Piano Music Sheets of Artist
Total 1 result(s), listing between 0 - 1.


The free piano sheet music is provided for personal enjoyment only, not for resale purposes. If you are one of the artists and not happy with your work being posted here please contact us so we can remove it.

Latest Sheets
Here are the latest free piano sheets..
Mailing List
Subscribe to mailing list and get notified of updates.



Latest Sheets Feed


Popular Sheets Feed


Follow us on Facebook